I've been looking for fun and creative holiday theme tags to do instead of my usual what I read blog. Scrolling on Google I came across this lovely tag created by https://imanadventurest.wordpress.com. It's definitely a tag for fans of books who enjoy the holiday of Halloween.  Let's get into this!
Favorite Scary Read for Halloween
My favorite story to read during Halloween is Washington Irving's Sleepy Hollow. I read this story for the first time in my 1101 Lit class and fell in love with it. The actual story, not the Tim Burton one, is actually more romance than horror, yet still this story gives me a few chills.
Scariest Book Cover, Like Ever
There are many covers for this story, yet Dracula must have one of the scariest book covers out there. Dracula is one of the first horror stories I ever read.
If You Could Pick Any Author to go Trick or Treating With. Who Would You Pick?
There are so many to choose from, yet I'll have to go with R.L Stine. He's the creator of the Goosebump series, so he'd be a lot of fun to hang out with on Halloween, Thanksgiving or even Christmas. My 2nd and third choice would be Rick Riordan and of course JK Rowling. They're all magical authors.
If You Could Dress Up as any Bookish Character for Halloween, who would you be?
Hmm…. Bilbo Baggins. I'm fascinated by Hobbit clothing. Plus I'm 4ft 9,  and have bushy, curly hair, so I easily look the part. Basically I'm a modern day Hobbit.
If you could find anything, from any book, in your trick or treat stash, what would you hope to find?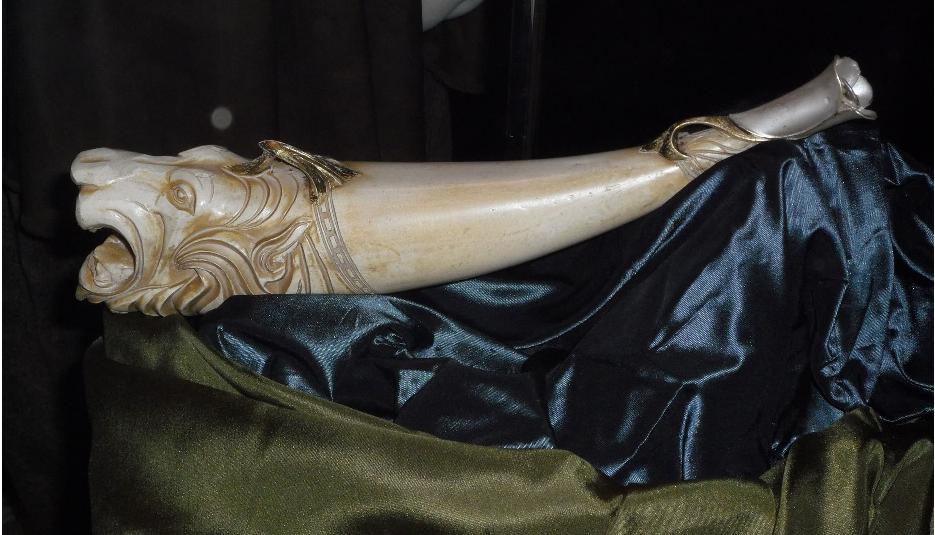 Susan's horn from  the Chronicles of Narnia. It's an interesting piece that would look nice on my bookshelf.
In what fictional world would you like to go trick or treating?
Halloweentown for sure.
What book villain would you not like to meet alone in a dark alley on Halloween?
I most definitely would not like to meet  Gollum from The Hobbit/ Lord of the Rings. He's such a freaky character with a bizarre personality disorder. I'm horrible at solving riddles, so stay away from me please.
Would you rather dress up as a vampire, zombie, werewolf, or a shadowhunter?
I'll have to go with vampire. Vampires are mysterious creatures. They can appear to be human, yet they are so different. They have amazing abilities. If I need some blood I'd go to a blood bank and take some from time to time. Sure that would be considered stealing, but would it be any better if I attacked someone to drink blood from their neck? Nope.
Pick a candy( anyone) from Harry Potter to Put into your Stash.
I would like to try a chocolate frog. I almost bought one at the Wizarding World attraction at Universal, but the price is too high.
What is your favorite Halloween candy?
Nestle Crunch is my favorite chocolate bar. I have not had one in a while, so I'd like to get a few for this Halloween.  Once while visiting my grandparents as a boy the cashier of a gas station handed me one for free. Probably not a wise business move, yet it made my night.
Overall I really enjoyed this tag. Very spooky and book related. If you would like to take part in this tag do not be afraid. Here are a few of my WordPress friends that I invite to take part in this tag aswell. Get started soon, because Halloween is almost over. Happy Halloween!!!!!!!!!!!!!
AKissAtMidnight
Abooknerd13
Adventuresinbibliophile
SociallyAwkwardbookworm