Mary Queen of Scots was a predominant figure in her time. She was born in Linlithgow, Scotland a town close by the Scottish capital of Edinburgh in 1542.  In her time she was meant to rule Europe's most  important nations[ England, France, and Scotland], yet politics and disease diminished these hopes. She was one of my favorite historical figures too study back when I was home schooled. Now, having Netflix I have been, watching the CW series Reign. I'm all about the monarchy. Half my blood line is English.  Here is my review for season one.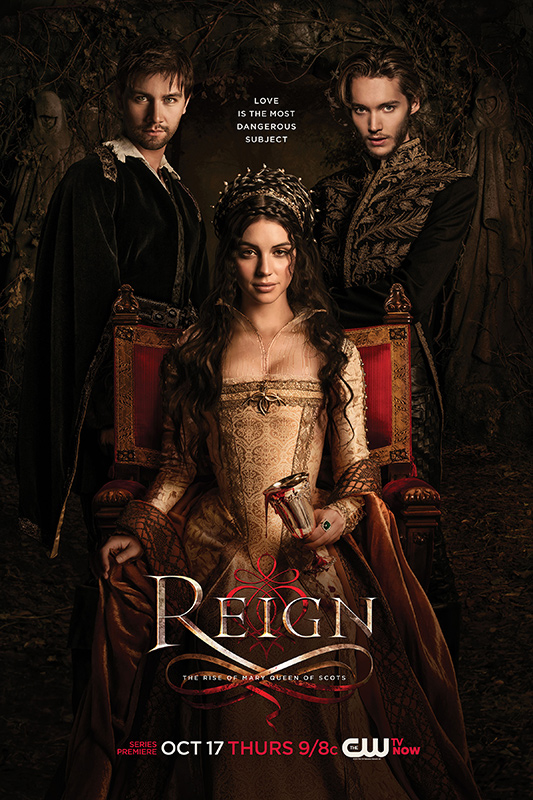 After the sudden death of her father James,  infant Mary was named successor of the Scottish throne in the year of her birth. She became a queen in waiting to marry Francis, France's future king[ they could not think of a better name for a Frenchman than Francis?}. At fifteen, Mary is nearly poisoned to death at the convent. She's sent to live within the French Court. She gets reunited with her  BFF's. Each of the girls get into some heavy romances and so much trouble. Mary is also reunited with Francis her future husband and king. She also meets Sebastian the bastard son who is a total hunk. If this love triangle is not enough to handle, Mary has to deal with the queen and king. The king really wants an heir to his throne. It's like Jersey Shore medieval style.
The first six episodes of this show were somewhat boring, yet the series really picks up as you pay more attention. This must have been one of the worst era's to ever live in. The people are so cruel. They were also so intimate like rabbits. Having bastard children is, because  you cannot keep your pants up so stop blaming Bastion ok King Henry!
I like all of the characters from this season whether good or bad. Adelaide Kane does a fantastic job, portraying Mary. IMO Mary was a pretty good person and Queen Elizabeth did sort of steal the English crown away from her.  I do wonder why her hair is not red on the show like the actual queen. What is so wrong about, having red hair? Francis is a good guy. He comes across as the type of king you'd want to have. Megan Follows is probably the best character on the show in my opinion. When I think of most kings or queens I think they were probably like Catherine and King Henry. King Henry was cool at first, but when he keeps seeing the ghostly image of his dead  brother around the castle he goes cray cray. Too much power for mortals. A lot this show is like a soap opera, yet the action is very good as well. The thought of a sword being jammed into my inner parts is just gross and freaky. Glad I'm alive in 2016. If you enjoy good, steamy romance this is the show for you. So hot!
Have you scene Reign? If so, what are your thoughts on this show?