Netflix's long and awaited spin off series Fuller House has finally arrived. In case there is some one out there who knows, nothing about Full House here is a glimpse at what that show was originally about. Full House was a TV series that ran for 8 successful seasons[from 1987 to 1995]. Danny Tanner[ Bob Saget] had recently lost his wife and is left to raise his three daughters named DJ[ Candace Cameron-Bure], Stephanie[Jodie Sweetin], and his youngest daughter Michelle[played by Mary-Kate and Ashley Olson]. Danny gets much needed help from his musician  brother in law Jessie Katsopolis [John Stamos] and his best friend who happen to be a comedian named Joey Gladstone[ David Alan Coulier]. He also had to deal with his oldest daughters annoying friend named  Kimmy Gibbler [Andrea  Barber]. Full House is sort of the king of family television shows which is a great reason why this show has returned to the air.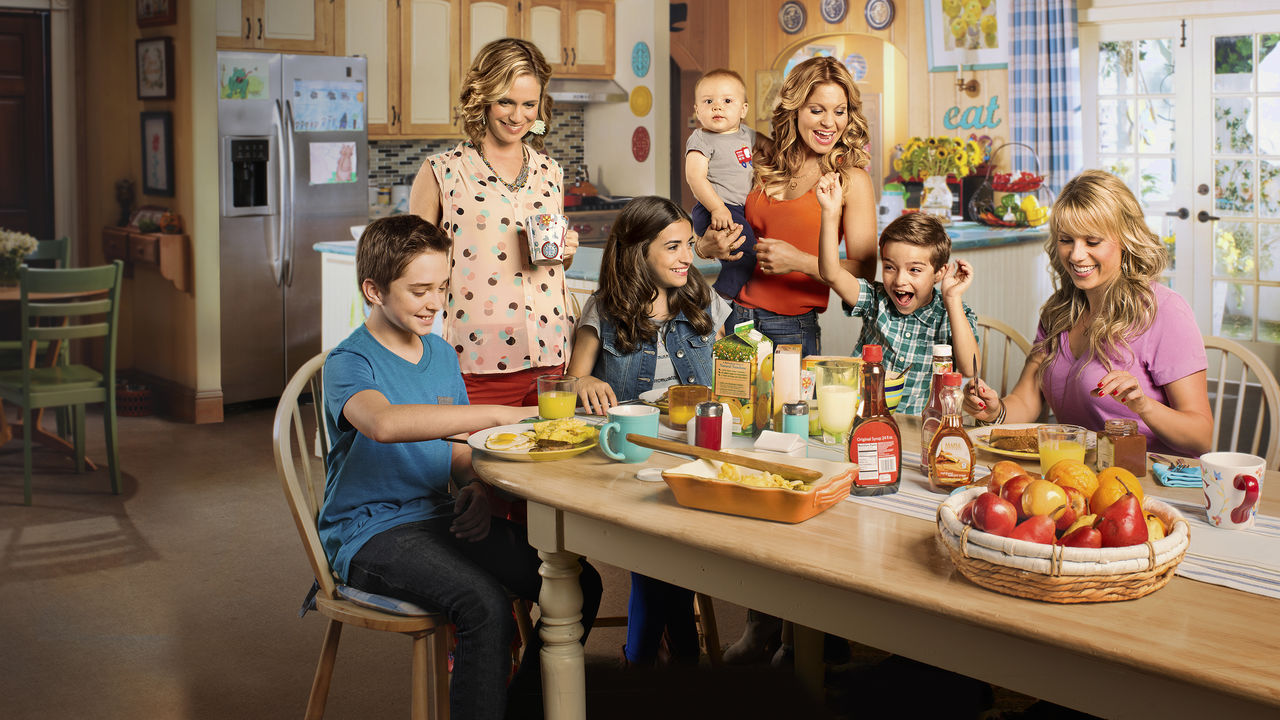 So far I've only watched the first two episodes and absolutely loved it.  I really liked how they're, keeping the same setting. In the very first scene, they made  jokes about Donald Trump which was very enjoyable. I'd rather have Bob Saget for a  celebrity president since he's a good father figure, but that is just my opinion. The show now flips to  being centered around  DJ,  Stephanie, and Kimmie. They're now living in her father's large home, raising her three sons[ her youngest son on the show is also played by twins]. The good family time nostalgia really comes to the screen. I like how they're, making references to the original show with quotes like  have mercy or how rude[ I have used that one many times]  It's just, amazing how they nearly got the entire original cast to return for the first episode which shows how much the actors and actresses' care about these roles.  Most may suspect this show to be geared more toward  girls, yet I think, having DJ's three boys in the picture will add a tomboy element into the series.

It had been twenty one years since Full House's final season. The  Modern Family television of today is not what it once was. Back then, there were family shows like Boy Meets World, Home Improvement,  7th Heaven, or Family Matters which had valuable family lessons. Those type of shows put the family first. They also talked about God and the Bible.  In today's shows the family members are putting family second to themselves. Sure the Goldbergs, the Middle, and Last Man Standing are certainly family centered, yet they are still missing the message a show like Full House had.
A few  decades a go family was vitally important. Each member of the family played its part. The father was the head of the house and protected his family. In todays "family shows" the father is usually a moron. Sometimes he gets things right by accident. Oh right, they also have the mom or wife get into some scandalous affair, trying to act like she's still a teenager.  The children are just rude, little, beast. I must say again what has happen to family values in  television?  Candance Cameron-Bure is a good role model who is strong in her  Christian faith. It's good to see younger Christians[ 40 is not old] actors and actresses coming forward. If we want God back into our lives we need to give Him our time. Fuller House looks like it will become a big family hit on Netflix. Hallelujah.
Has anyone else watched Fuller House? If so, comment below on what you thought of the show so far.